Previously published Our Economy analysis examined how between 2010 and 2020 Southwest NH experienced the first decline in its population since the latter half of the 20th century. The overall loss was modest—444 people, or 0.5 percent—and much less significant than some rural areas around the country. The trend was still notable, however, given that certain segments of our population, such as the labor force and school-aged children, have been experiencing steeper declines.
Then came the pandemic. The 2020 Census, which took place in April of that year, failed to capture much of the demographic reshuffling that occurred across the United States. The common narrative was that many city dwellers, liberated by remote work and going stir-crazy in small urban apartments, were moving to the countryside in search of larger homes, greener backyards, and access to the outdoors.
This story was supported by a variety of data sources, such as USPS change of address data. We lacked publicly available information, however, to better understand how this trend was playing out in Southwest NH. Recently released figures from the U.S. Census Bureau's Population Estimates Program now provide us with a window into how our region's population has changed over the course of 2020 and 2021.
In short, we've seen a significant reversal of the population loss experienced over the previous decade.
While Cheshire County lost approximately 1,000 people between 2010 and 2020, it gained nearly 900 people between July 2020 and July 2021. When compared with all other counties in the NH-VT-MA tri-state area, Cheshire County ranked 9th (out of 38) in terms of percentage growth over the 2020-21 period. Most other New Hampshire counties also saw relatively strong gains.
Pulling back to examine the whole tri-state area also reveals that the most urbanized portion—the Boston metro area—saw the biggest population drop between 2020 and 2021. Suffolk County, which includes the City of Boston, lost nearly 27,000 residents, or 3.3%.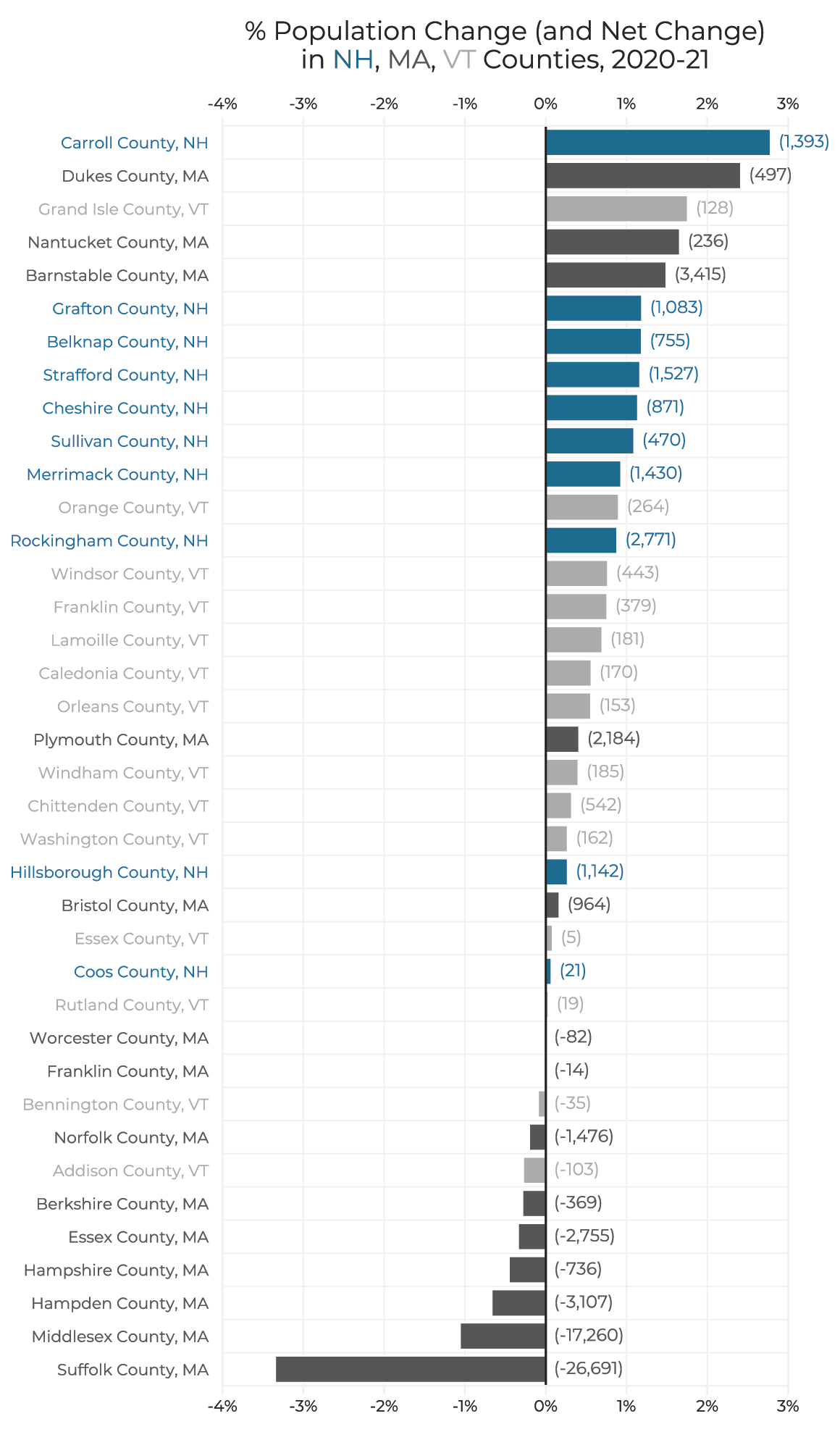 Based on census data, we can't say whether recent population gains in Cheshire County are due to migrants flocking here from Boston—or any other city for that matter. What we can say, however, is that our relatively rural region has seen gains while nearby urban population centers have seen losses. This pattern is quite different than that seen during the preceding decade. We can also determine that essentially all population growth in Cheshire County has been due to domestic migration, as opposed to "natural increase" (births – deaths) or international immigration from other countries.
What's the upshot for regional economic development? One takeaway is that there's opportunity to encourage new residents—of which there's suddenly a substantial number—to set down roots and become long-term community members who contribute to our region's culture, economy, and civic life. This doesn't necessarily happen automatically. The likelihood of integrating these newcomers will depend in part on whether we as a region proactively welcome them and create avenues for them to make connections with neighbors, friends, and colleagues. This process can take many different forms. Young professional networks, local welcome wagon initiatives, cultural programming, active public libraries, and strong public schools are just a few examples.
The recent bump in population also underscores the importance of another economic development issue: housing. Even before the pandemic, when the region's population was in decline, housing was in short supply, especially in the rental and starter home markets. (A tightening housing market is possible even where the local population is shrinking. Smaller household sizes, among other factors, can contribute to such a phenomenon.) Today, as our region experiences growth in population, increasing the supply and variety of available housing units will be key for ensuring that prices remain attainable for working and middle class families. Expanded housing opportunity will be necessary for the region to continue counteracting previous population loss and welcoming new, much-needed workers and other community members.